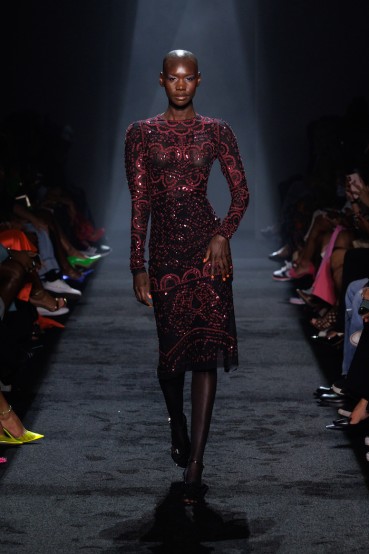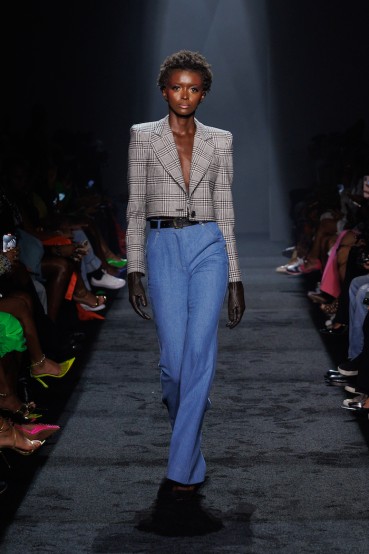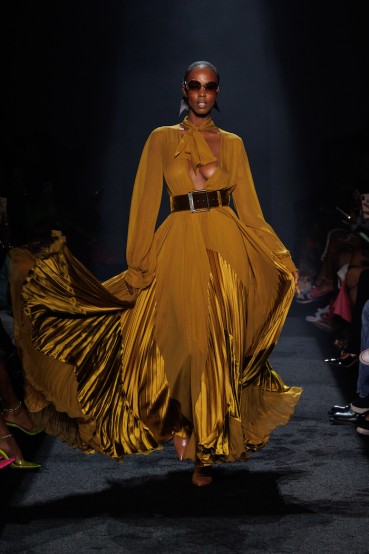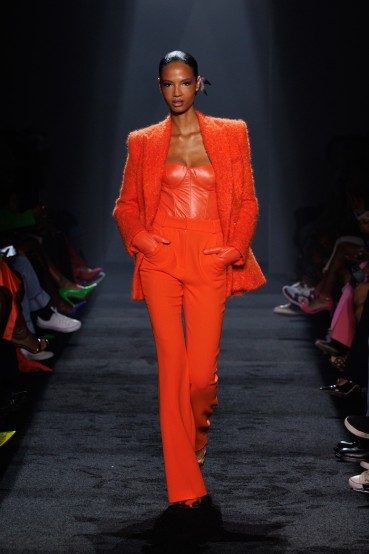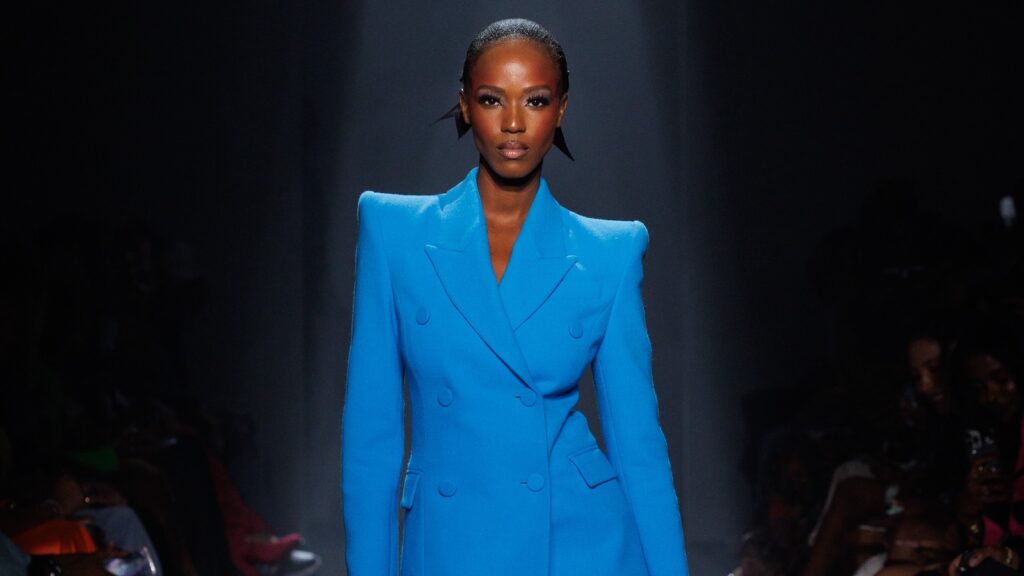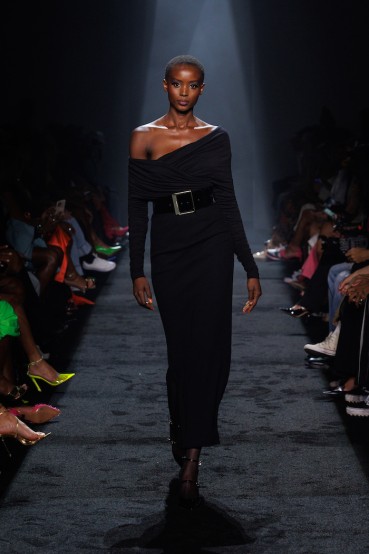 Our NYFW Fall 23 Runway Report kicks off with Sergio Hudson, a once-in-a-lifetime designer, who just happens to be the current Essence Magazine's Designer of the Year. Born Daniel Sergio Hudson Jr. and hailing from Ridgeway, South Carolina, Sergio was raised by his parents Daniel Sr. and Sheldon Hudson. Sergio cites his mother Sheldon who was a tailor and his sister Tanya Jenkins (model) as inspiration. With the influence of the women in his life, Sergio has risen to be a household name in womenswear. Though Sergio has very humble beginnings, he was first seen by the world as a designer competing on Rihanna's hit Bravo show "Styled to Rock" where he went head-to-head with some of the brightest modern designers and won the show. The prize? 100,000 dollars and the golden opportunity to work on Rihanna's design team. From there, Sergio's success skyrocketed! He has dressed the likes of Beyonce, Michelle Obama, and Vice President Kamala Harris (for the inauguration) and has recently just started a designer-muse partnership with Keke Palmer. It doesn't look like Sergio is stopping anytime soon! Take a look at a few of his 80s womenswear fashions inspired by the late and great Tina Turner from his NYFW show! 
Designer Photos courtesy of Al Zeta
Runway Images courtesy of Al Zeta
Connect with Sergio
@Web|  https://sergiohudson.com/
FB| https://www.facebook.com/sergiohudson.
IG https://www.instagram.com/sergiohudson/
Tiktok" https://www.tiktok.com/@sergiohudsoncollection 
#SERGIOHUDSON #ESSENCE DESIGNER OF THE YEAR #NYFW #NYFW SS24 #WOMENSWEAR #TINA TURNER #BEYONCE #KAMALA HARRIS #BLACK DESIGNERS #FASHION #BFW2023#BLACKFASHIONWEEK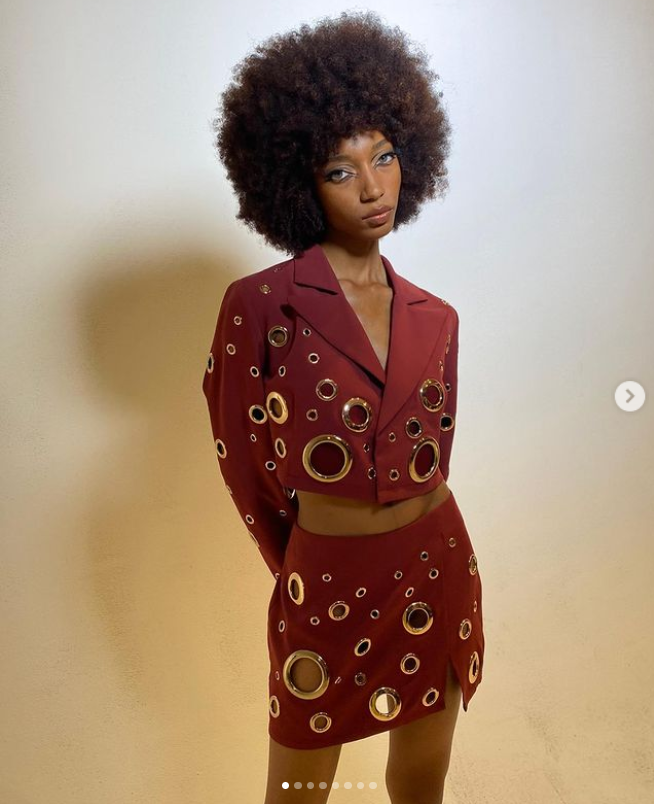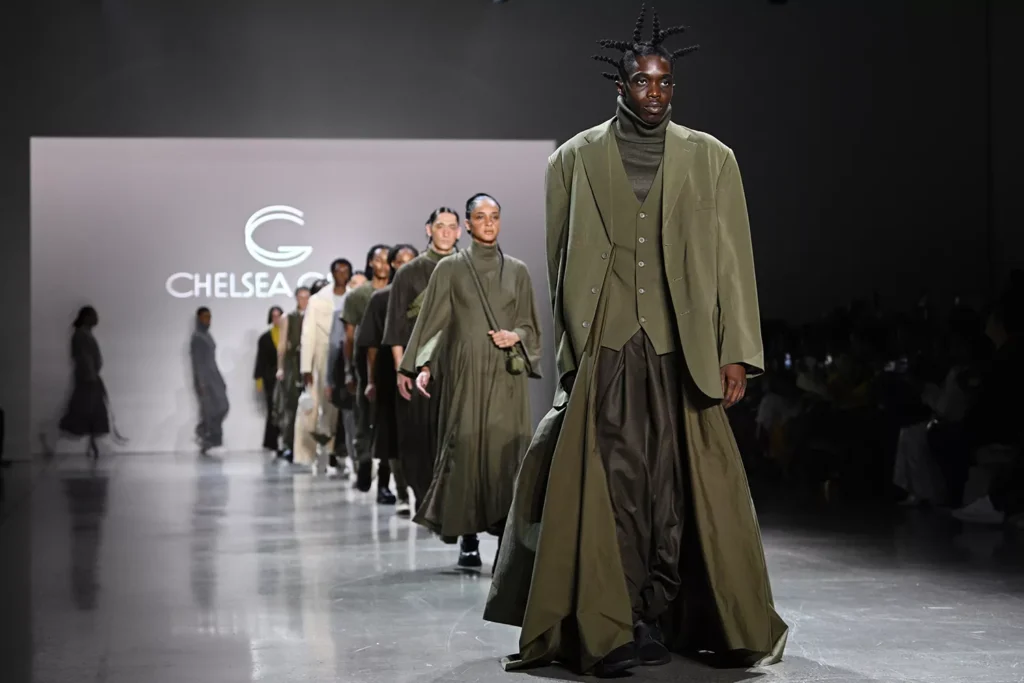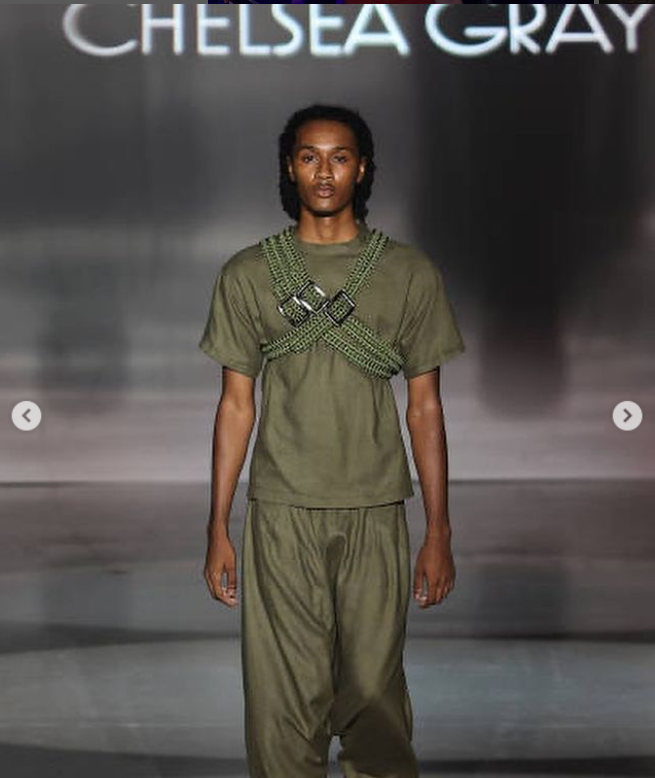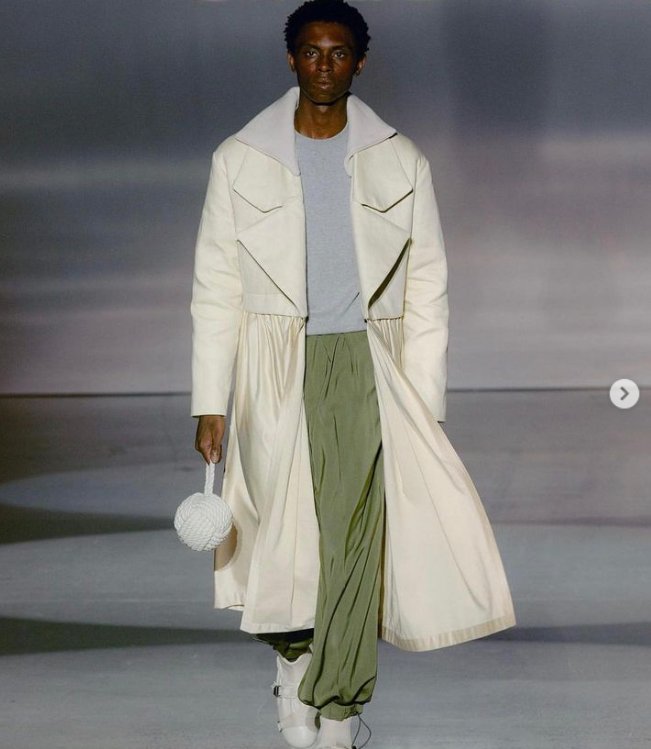 Photo courtesy: photographer Elizabeth Wirija via 360 Magazine and Arturo Holmes via Getty Images
Photo credit: @elizabethwirija and @arturoholmesphotos

Chelsea is a creative from Cleveland, Ohio. Although Chelsea originally attended college at North Carolina Agricultural and Technical University for psychology, her passion for fashion landed her at The Academy of Art Institute in San Fran. While attending TAOAI for her master's in fashion Chelsea locked in on her craft.
✨ Her immense talent gave her the opportunity to intern with fashion gods such as Vera Wang and Andre Walker. From the start of her career, Chelsea has defined herself as a political fashion designer. The state of the world is of particular interest to Chelsea as every line she has designed aligns with her beliefs (on world issues?) Well, one thing is for sure the men's fashion that she invents expands past many restraints we put on men's wear
(Chelsea's Spring/ Summer 2024 collection showcased at the UPSx HBCU during NYFW)
Connect with Chelsea
@Web| https://lnkd.in/gf937um4
IG| __chelsea.g
(Photo courtesy: photographer Elizabeth Wirija via 360 Magazine and Arturo Holmes via Getty Images)
Photo credit: @elizabethwirija and @arturoholmesphotos
#CHELSEA GRAYS #UPSXNYFW #NYFW #BLACKDESIGNERS #MENSWEAR #CULTURAL FASHION #POLITICALFASHION #FASHION
#BlackFashionWeek #BFW2023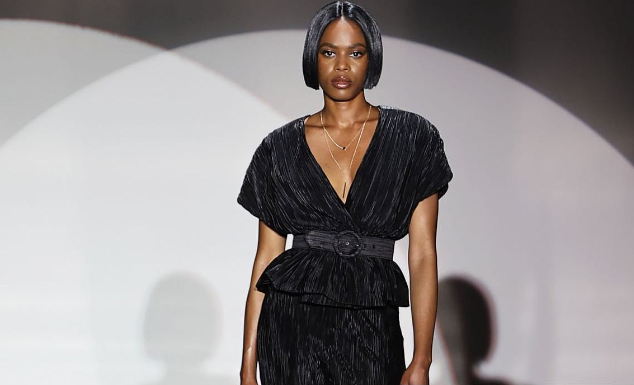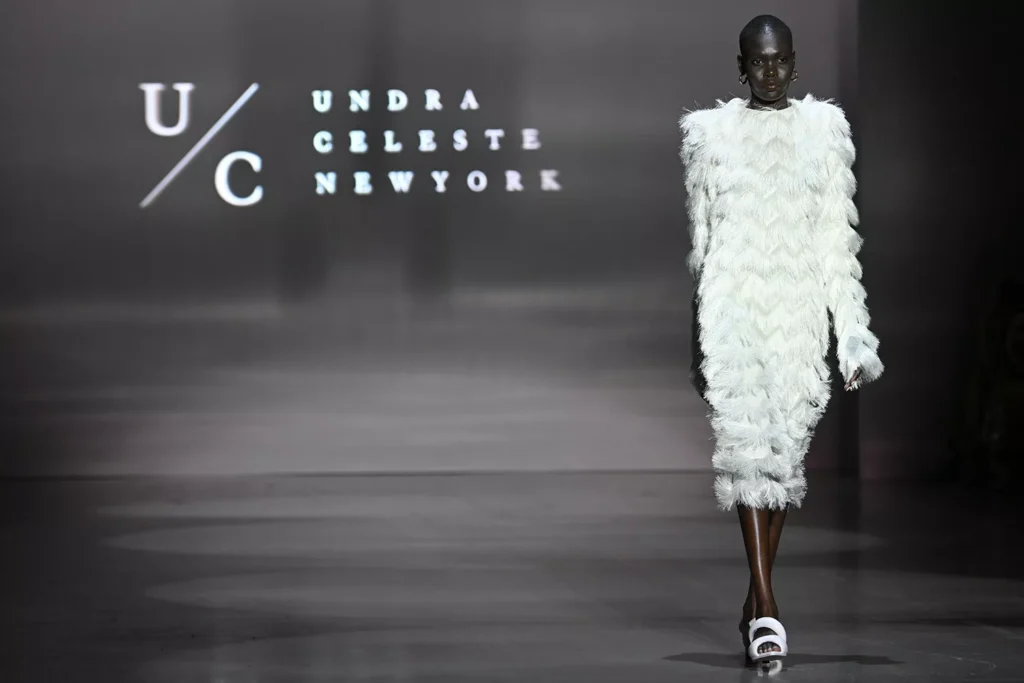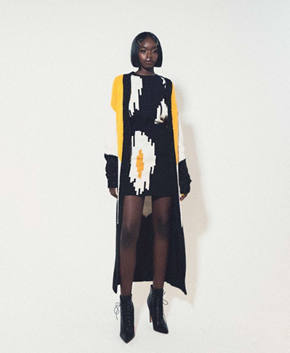 Photo courtesy @bbedder @olivercovrett
Undra Celeste is another one of the very talented designers who presented last month at the  UPS x NYFW Big Motion  Fashion Show.  Originally from Guyana,  Undra Celeste grew up in the creative streets of Brooklyn, New York where perhaps she attributes much of her fashion influence. Undra Celeste started her fashion career at the tender age of seven, by selling bracelets and paper dolls to her classmates. She later attended the illustrious Howard University to pursue her fashion design dreams. After completing school, Undra led a 15-year career in workwear fashion. In 2018, she made history by designing the first basketball shoe made by a woman, partnering with Nike, Harlem Fashion Row, and Lebron James to remix the NFR X Nike Lebron 2016 sneaker. The manifestation of immense success came when she defined her brand Undra Celeste as a woman's workwear brand for the multicultural working woman. The designs intended for confident women of color to feel their best in an industry where they must make noise. Undra dedicates herself to amplifying her clients' voices by making sure they look the part.  We managed to grab a few pics of her current collection Undra Celeste New York defined by bold colors and feminine fabrics.  Photo courtesy @bbedder@olivercovrett
Connect with Undra 
@Web|  https://www.undracelesteny.com/ 
FB| https://www.facebook.com/undracelesteny
IG  https://www.instagram.com/undracelestenewyork/
Tiktok https://www.tiktok.com/@undracelesteuncut 
Designer Photos courtesy of
Runway Images courtesy of
#UndraCeleste #BigMotionxNYFW #designers #FASHION #Black fashion #workwear #womenswear #runwayfashion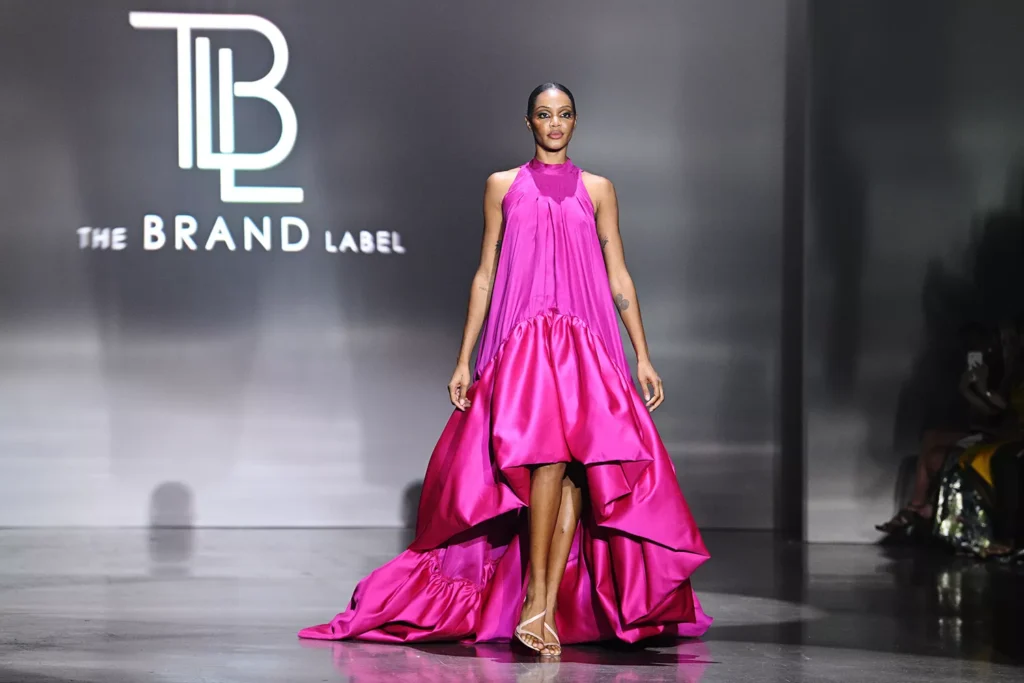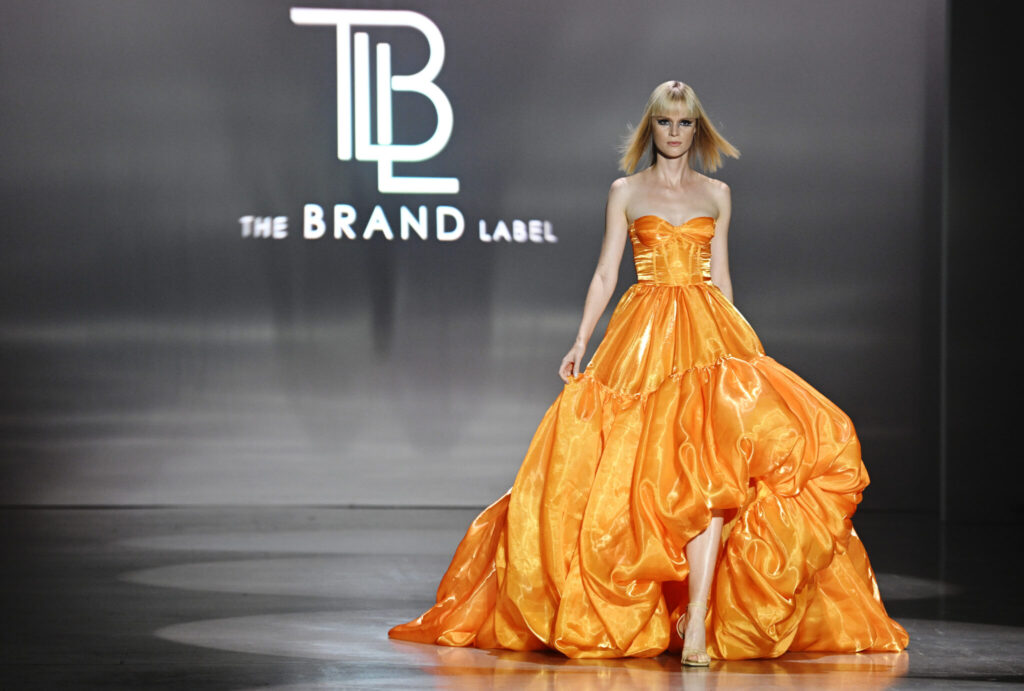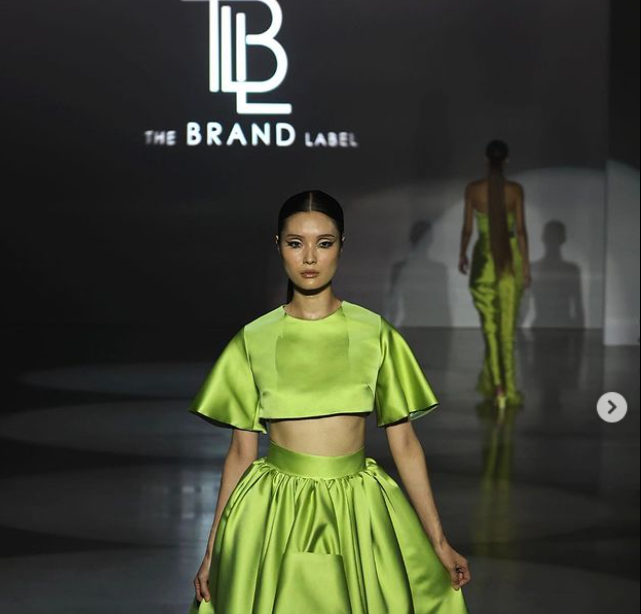 Photo courtesy: The BRAND Label, Ciara Simone, and Arturo Holmes via Getty Images
Photo courtesy: @thebrandlabel, @ciara.simonej @arturoholmesphotos
Have you heard of "The Brand Label"?  Well in case you haven't, The BRAND Label team is comprised of Nola McEachin and Shaq Robatham. The duo connected at their HBCU alma mater, Virginia State University through their love for fashion. The BRAND Label started as an idea in the dorm and is now an uber-successful international clothing brand. Upon designing The BRAND Label Shaq and Nola set out to design clothing that will say more about the fashionista than it does about the outfit. The mission of The Brand Label is to label women with their own brand and story, rather than to subscribe to the labels that society puts on them. 
Check out a few of their fashion from their recent NYFW showcase. 
Connect with The BRAND Label
@Web| https://www.thebrand-label.com/
FB| https://www.facebook.com/ciarachyanne
IG https://www.instagram.com/ciarachyanne
Tiktok https://www.tiktok.com/@shaq_will
#THEBRANDLABEL #UPSXNYFW #BIGMOTION #HBCU FASHION #BLACKFASHION #READY TO WEAR #BLACKDESIGNERS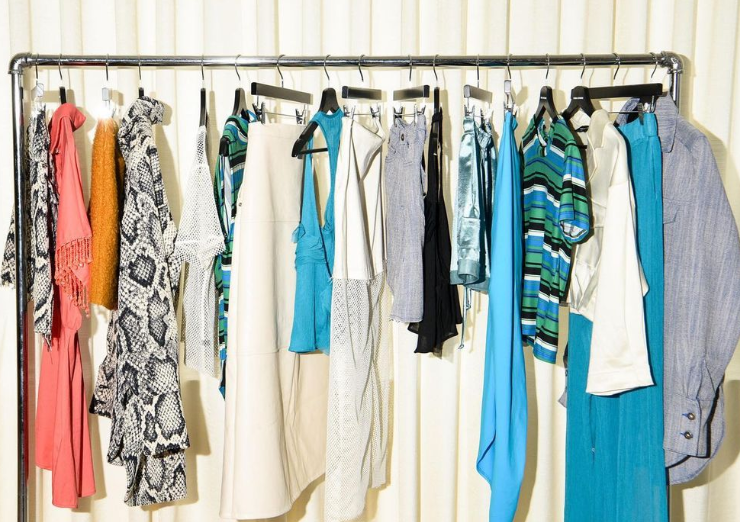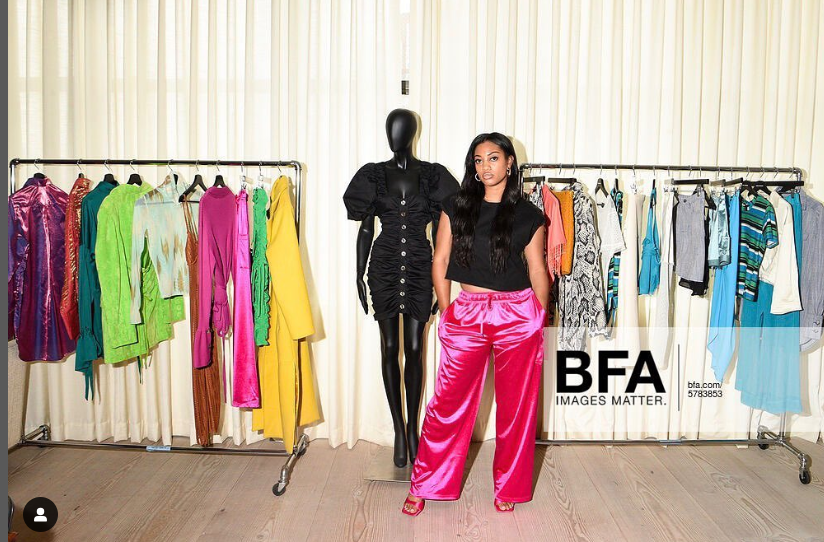 Ciara Chyanne is a  self-titled/self-taught fashion designer based in Los Angeles, NY (CA). Ciara raised in Watts, LA  made her debut nationally when she landed a spot on the hit Amazon Prime show Making the Cut, Season 3. Ciara is recognized for taking risks in her fashion. Her brand has been targeted towards women who want effortless bold fashion pieces. Ciara has worked with big fashion brands like Champion and well-known celebrities such as the beloved Sheryl Lee Ralph!  Ciaira's NYFW 2023 presence was made known at her fashion show at the Black in Fashion Showrooms.
Photos via @ciarachyanne
Photos via Deonte Lee @BFA
Connect with Ciara
@Web| https://ciarachyanne.com/
FB| https://www.facebook.com/ciarachyanne
IG https://www.instagram.com/ciarachyanne_
Tiktok https://www.tiktok.com/@designerciara
#CIARA CHYANNE #BLACKINFASHIONCOUNCIL #NYFW #SS24 #BLACK FASHION #BLACK DESIGNERS #CONTEMPORARY FASHION #FASHION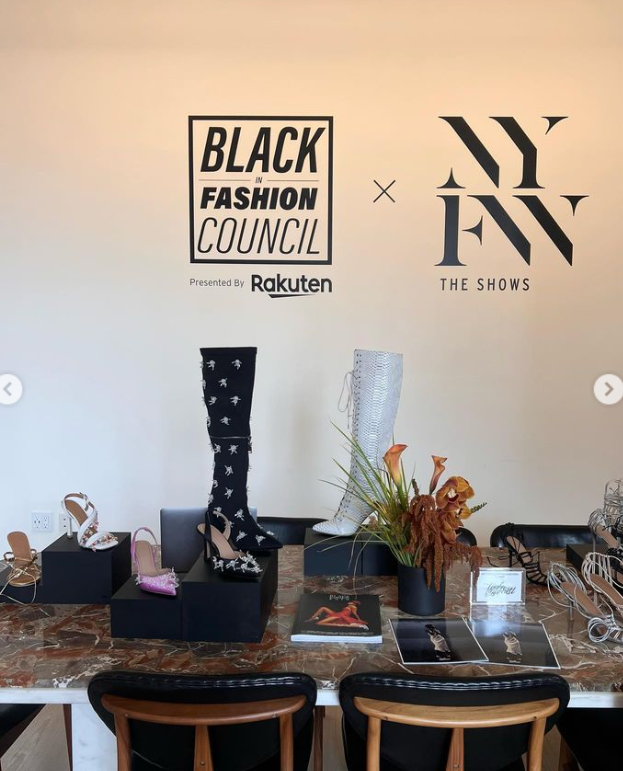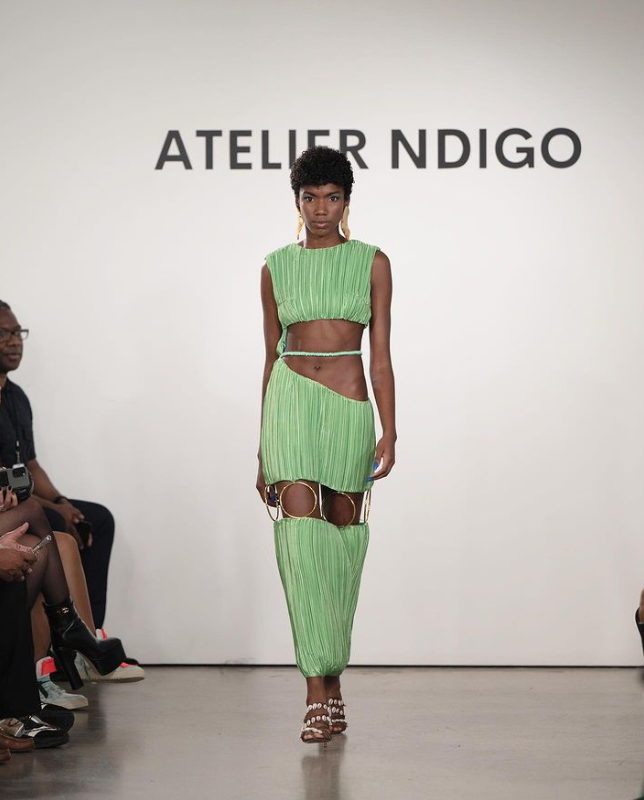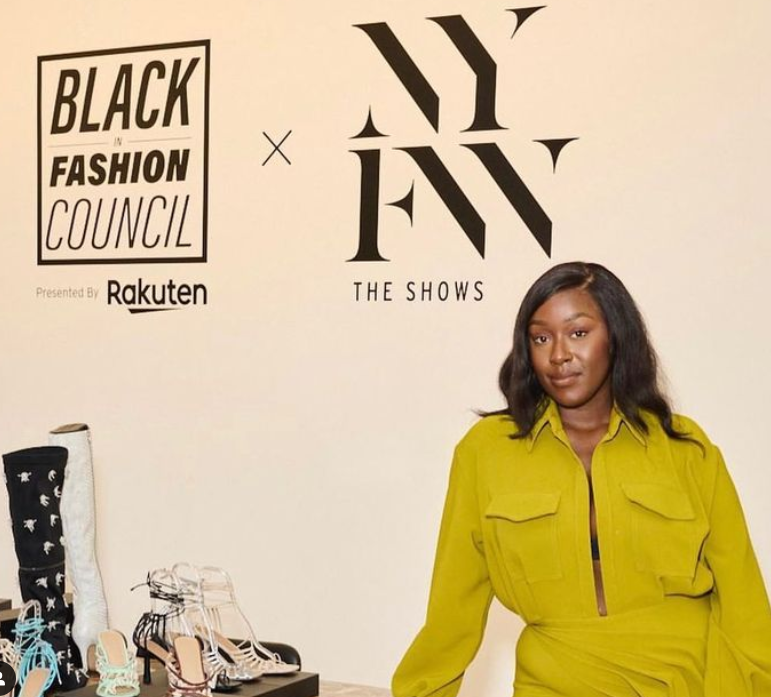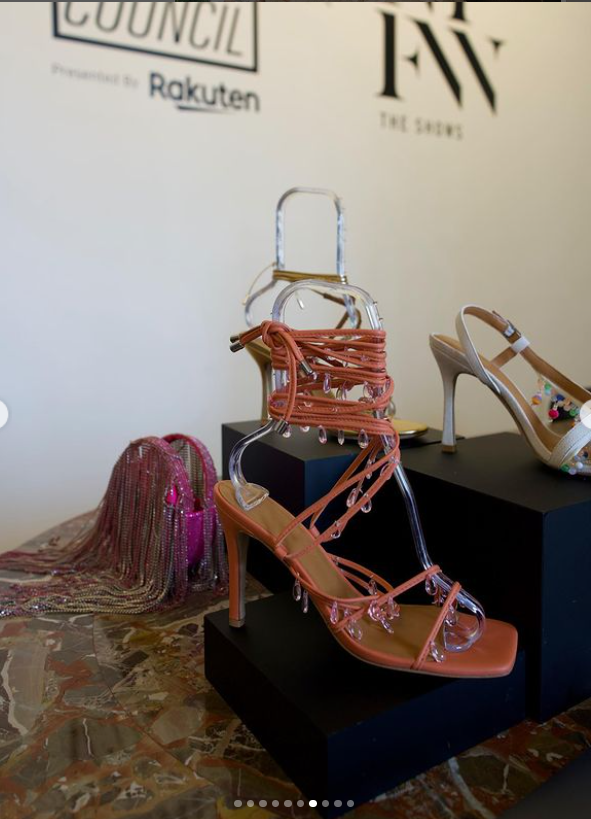 Photo Courtesy: Tejahn Burnett and Brandi Always
Photo Courtesy: @tejahnburnett and @portbstudio
Look down before you look up! This was the glance of fans when they saw Tejahn Burnett's designs come down the New York Fashion Week.  Tejahn Burnett is a namesake brand that specializes in footwear. The shoe designer was born in Toronto, Canada but is of Jamaican descent. She is very proud of her Canadian culture and the icons who have paved the way for her career. She has captured the attention of major media such as   Elle, Marie Claire, etc., and celebrities like Cardi B, exceeding her brand expectations far beyond what she could have dreamed of. Her footwear line, which started in 2017, caterers to the community where Tejhan is from. A community made up of black women who may not always see themselves on a runway. Tejahn's sleek and high-class designs are made to be seen, so if you see her name attached to a runway, make sure you look down so you don't miss multicultural women strutting their stuff in Tejahn's sexy footwear. Check out a few of Tejahn's new footwear designs from her most recent collection during NYFW! 
Photos Via
Photo Courtesy: Tejahn Burnett and Brandi Always
Photo Courtesy: @tejahnburnett and @portbstudio
Connect with Tejahn
Web| https://tejahnburnett.com/
FB| https://www.facebook.com/tejahnoffical/
IG|  https://www.instagram.com/tejahnburnett/?hl=en
Tik Tok| https://www.tiktok.com/@tejahnburnett 
#TEJAHN BURNETT #TEJAHN #JAMAICAN CANADIAN #JAMAICAN CANADIAN DESIGNERS #FOOTWEAR #CULTURAL FASHION #POLITICALFASHION #FASHION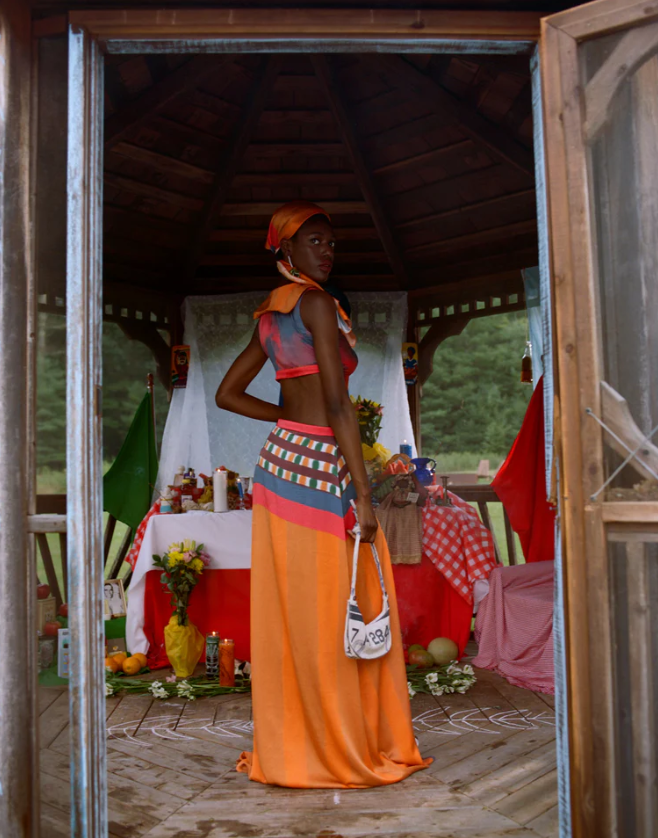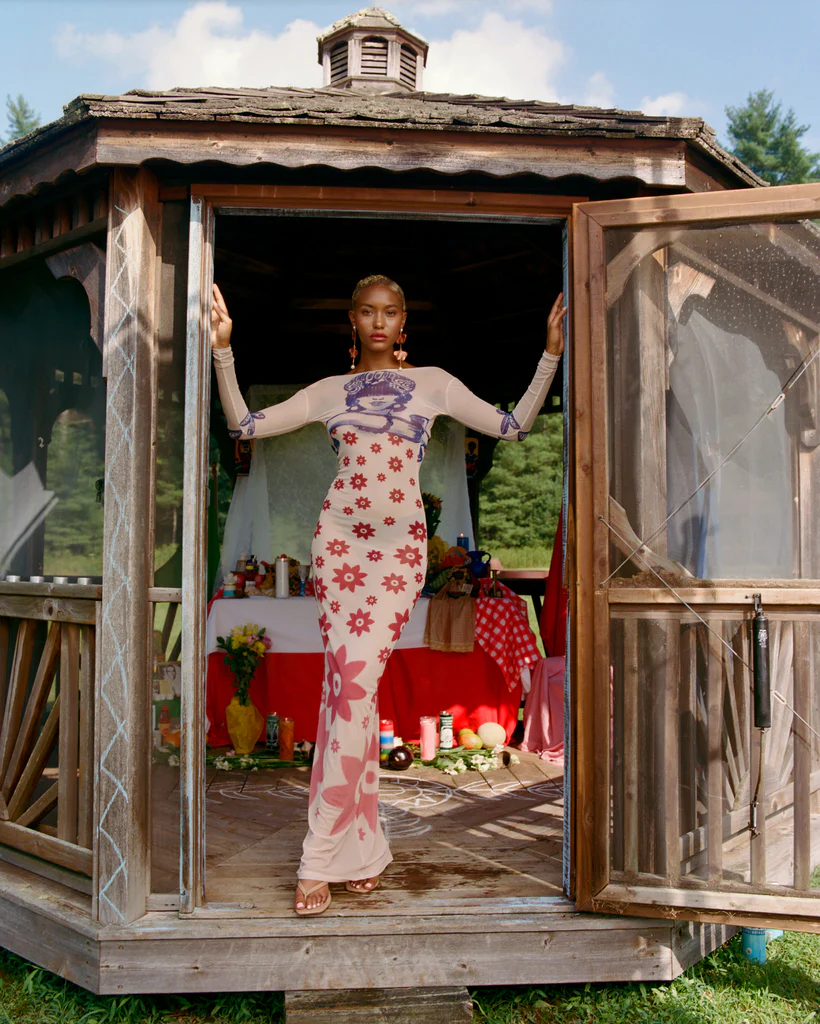 House of Aama is comprised of mother and daughter dream team, Rebecca Henry and Akua Shabaka. Maybe you've seen House of Aama sweeping the runway with its modern contemporary cultural fashion, but their story lies beneath the fabric. The origin of House of Aama began in 2013 when the daughter of the duo, Akua became frustrated with not being able to find unique clothing that represented her cultural identity so she looked to her mother for guidance. Upon creating clothing inspired by their African heritage, the response they received from their friends, led them to create what would eventually become a global fashion brand. 
       After House of Aama was featured in NYFW 2018, they made a name for themselves amongst rising celebrities such as  Chloe Bailey and were featured in Vogue Magazine. This year the boundless duo made their NYFW contribution to the fashion industry by lending their voices to the Green is the New Black Fashion panel presented by Essence Magazine during NYFW. The panel championed sustainability in black fashion brands. Please take a look at how House of Aama stays true to green fashion with these sneak peeks from their online website. 
Connect with Aama
Web https://houseofaama.com/
|FB| https://www.facebook.com/HouseOfAama/
IG https://www.instagram.com/houseofaama/
Designer Photo credit:  House of Aama
Runway Images credit  courtesy of House of Aama 
#HOUSEOFAAMA #AAMA #ESSENCE #BLACKDESIGNERS #NYFW #DESIGNERS #SUSTAINABLE FASHION #FASHION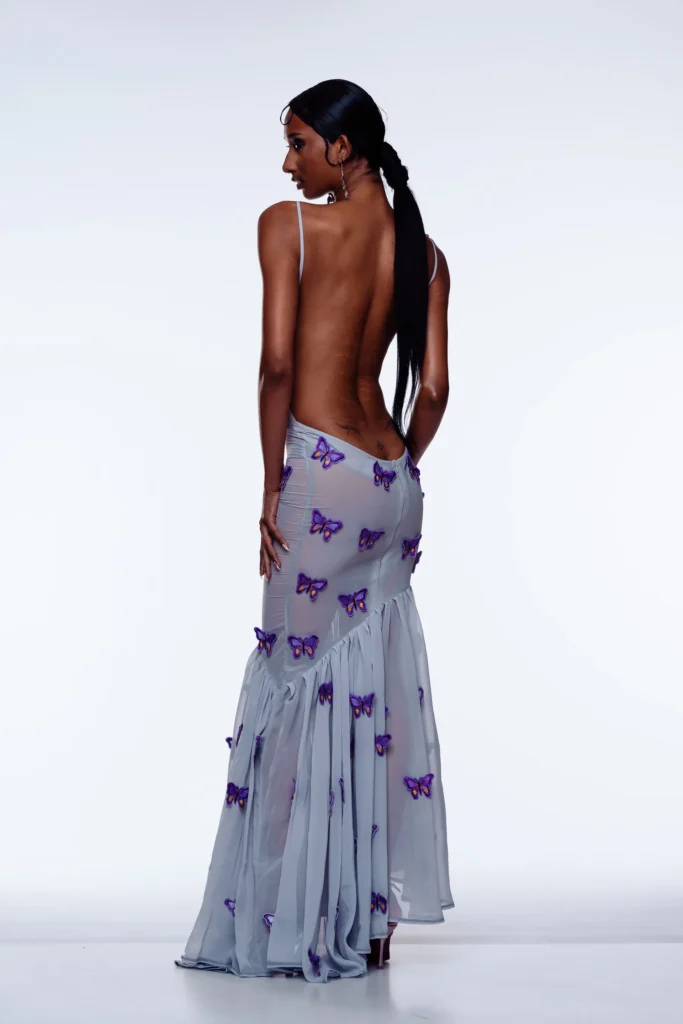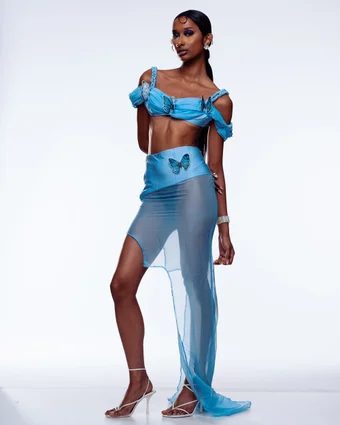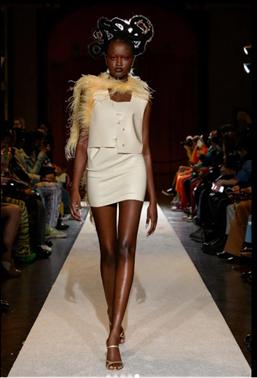 Photo courtesy: Jasmine Rutledge via Tia Adeola and Malike Sidibe via Vogue Runway
Photo courtesy: @jasminerutledge @maliksidibe
TIA ADEOLA is the founder and designer of the modern ladieswear brand Tia Adeola. Teni "Tia" Adeola graduated in May 2019 from The New School with a Bachelor of Arts degree in Culture and Media. Though Tia's roots are in Nigeria, she was raised in London and now lives in New York. The brand was created by Tia in her dorm room during the summer of 2017, using her art history background and passion for the Renaissance period as inspiration. Her primary audience is people of color with whom she wishes to rewrite the history of fashion.  As she strives to achieve her goals, she's accomplished so much in such little time having worked with Nike, and other brands. Tia has had the pleasure of dressing the who's who of modern celebrities and influencers such as Jayda Wada, Karrueche, and Quen Blackwell establishing her clothing as a designer brand for IT Girls. Check out a few recent photos from her collection featured at the Black in Fashion Council Showroom. 
Photo credit: Jasmine Rutledge via Tia Adeola and Malike Sidibe via Vogue Runway 
Photo credit: @jasminerutledge @maliksidibe 
Connect with Tia
@Web|  https://www.tiaadeola.com/
IG https://www.instagram.com/tiaadeola/
Tiktok" https://www.tiktok.com/discover/Tia-Adeola

#TIA ADEOLA #NYFW #SPRINGANDSUMMER2024 #BLACKDESIGNERS 
#NIGERIAN DESIGNERS #CULTURE FASHION #COUTURE #RUNWAY FASHION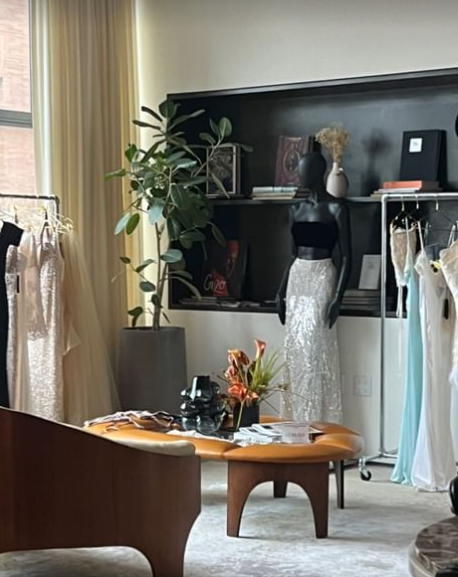 via karma media
Photo Courtesy: Lurelly via NYFW and Karma Media
Photo Courtesy: @lurelly and @karmamedia
Do you want a  luxurious wardrobe? Then look no further because this is the motivation behind the luxury brand Lurelly. The founder Lurell Walker has incorporated all things luxury into her brand  Lurell. Since 2012 designer has blended the personification of her life and influences, a mix of classy, feminine, and Jamaican culture into her clothing. The brand's main inspiration was her mother, Jada Marie, though it was her grandmother who got her into designing. As a little girl, Lurell found comfort in making dresses for her dolls utilizing the natural rich resources of Jamaica with her grandmother. Lurelly wants women to feel the same happiness wearing her fashions as she does making them. With her designs, she intends to encapsulate the duality of womanhood; strength, and femininity. Lurelly has collaborated with the likes of Vogue and celebrities such as Shay Mitchell and Alexandra Shipp. Take a look at Lurelly's ethically sourced LA-based brand which showcased at the Black Fashion Council during NYFW! 
Connect with Lurelly
Web https: https://lurelly.com/
|FB| https: https://www.facebook.com/Lurelly/
IG https: https://www.instagram.com/lurelly/
Tiktok" https://www.tiktok.com/@lurelly_?lang=en 
 #LURELLY  #LURELLWALKER #NYFW #Black in Fashion Council #NYFW #BLACKDESIGNERS #JAMAICANDESIGNERS #JAMAICANFASHION #FASHION