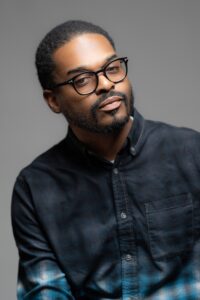 Born on the south side of Chicago but raised in small Greenville, Mississippi,  the desire to pursue fashion as a career for Jonathan Thedford was inspired by a  classmate who asked him to sketch her prom dress. Her inspiration was a form-fitting knee-length black dress worn by Dorothy Dandridge. He took her inspiration and request and immediately sketched her dream dress. When he provided her the sketch she took it to a seamstress to be made. When the garment was complete his classmate showed him the finished product and this sparked the desire within Jonathan to pursue fashion as a career.
 Jonathan attended Delta State University in 2000 where he majored in computer science with a minor in fashion merchandising. He relocated in 2001 to Chicago to attend Columbia College for fashion design. In 2007, He enrolled in sewing classes at Hancock Fabric and EWS Academy, where he learned the basics of operating a sewing machine,  how to read sewing patterns, virtual hand sewing techniques, and how to control fabric on a sewing machine. After learning much of the basics in fashion from various institutions,  in 2015 Jonathan continued his education in fashion by enrolling in the  Illinois Institute of art Chicago to major in fashion design and the rest is history for the young talented Chicago-based designer. 
Fast forward today and Jonathan's career pursuit in fashion is in full effect. He is currently working to expand his brand and follow in the footsteps of the many great designers that he has admired and worked with over the years including the legendary Chicago bridal designer Bryan K Osburn.