No Need For Color
Houston Designer Tanya Ivory Mayes's Designs in All White
In Today's interview, we caught up with Houston Designer Tanya Ivory Mayes of the Ivory Collection to find out about her new fashion endeavors since we last featured her collections during our runway shows.
BFW: Hi Tanya we would like to express our immense gratitude for taking the time to interview with us. It's always nice to catch up with designers. When we last caught up with you you were featured in our 2018 fashion show in Houston. 
BFW: Can you tell us what that experience was like for you?
TM: The 2018 fashion show was a great experience and an awesome brand-building opportunity.
BFW: I want to discuss The Ivory Collection's Journey since you last participated in our events. What have you been up to post-COVID-19?
TM: I have pivoted since the pandemic focusing more on online and providing custom attire in addition to doing consulting work.  I have participated in some fashion shows since we last connected including NYC Live at Fashion Week Spring/Summer 2020 in New York, as well as shows in both Dallas and Houston TX.  I have also been teaching sewing, fashion, design, art, and sketching as Director of Fashion at a wonderful art school and conducting massively successful Fashion Summer Camps. I have also had a period of time of reflection due to losing people I love during and after the pandemic. I have also scaled back to streamline my focus on the building blocks of business attending the West Houston Institute business program led by Program Coordinator Connie Leon. It is ok to get more information. It is okay to have multiple streams of income as a designer.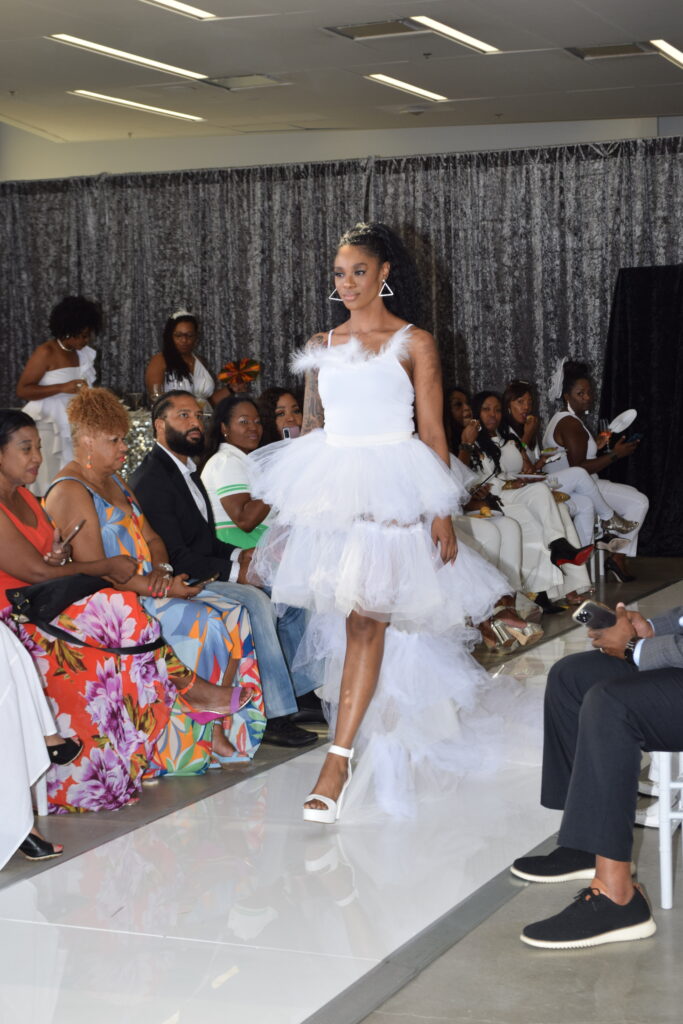 BFW: Recently you collaborated in an all-white affair in Houston Texas. Can you tell us more about the event and your new fashion collection? Describe the looks that were designed for the event. ( fabrications and silhouettes)
TM: The all-white affair fashion show is a lead-up to a bigger event, Le Diner en Blanc, which is hugely popular and a spectacular affair. The fashions I featured for the show were very elegant and romantic in crisp white with a little bit of sparkle.
BFW:When it comes to signature designs, it can be challenging for emerging designers to find theirs just because style is changing. Do you have any advice on how to stay knowledgeable of fashion trends? Or more about your signature designs?
TM: My advice to up-and-coming designers is to find your own style, develop it, and be creative from there. Find and target the customer that likes your style. Also, get some business education. There are many ways to stay up on trends. If you observe the things around you there is inspiration, but don't copy. Express your designs through your unique lens. My Signature design style is feminine and elegant with a touch of sparkle. Whether I am doing casual, streetwear, or couture, these elements are there.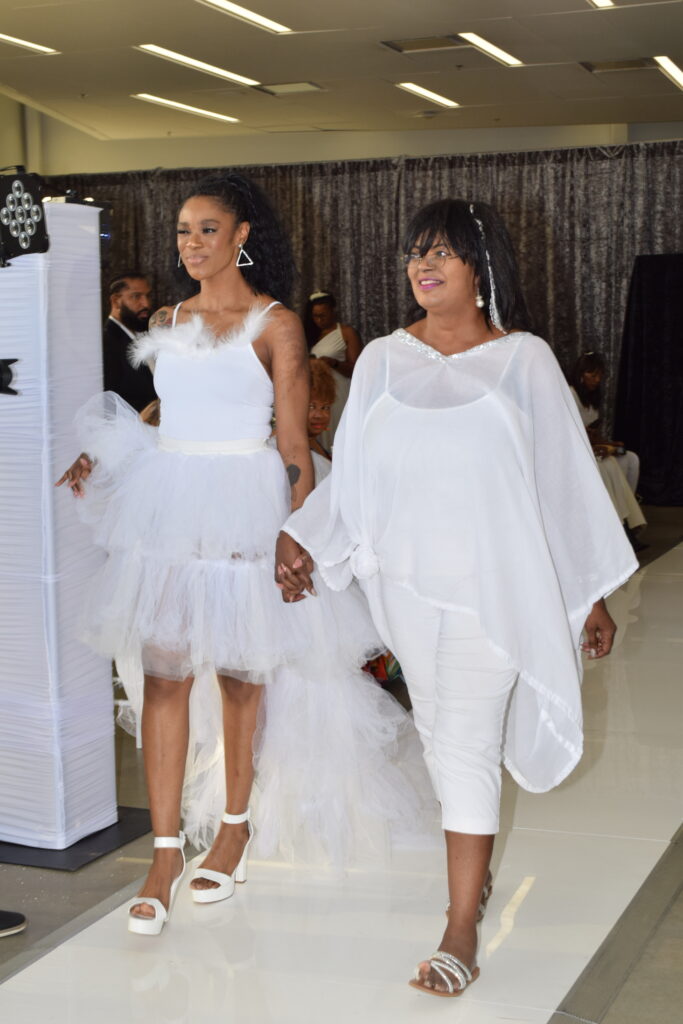 BFW: Are there any Fall 2024 Fashion Trends that you have incorporated into your new designs? What's next for the Ivory Collection?
TM: Following the pandemic, the trend is to be a little more dressy but still maintain a level of comfort. People aren't willing to give up the comfort that they discovered, however, they are "outside" now so they want to look good! The Ivory Collection's direction is to service this desire for Comfort-Glam and continue to build online with theivorycollectionusa.com and other avenues. The Ivory Collection continues to evolve while becoming more focused and targeted, focusing more on a collection than custom. The Ivory Collection has dressed local socialites and been featured in magazines including @lifeisartmag, @yllemagazine, Joli en Style, and Haute OH Magazine since our last interview. The Ivory Collection recently collaborated with Designer Malcolm Staples who is fresh from showing his collection at Emerge New York Fashion Week and is widely published. We have collaborated before and our styles blend and complement each other in a way that makes sense for both brands.  In addition to working on my collection, I am also currently a consultant to another fashion brand based in Houston that you will be hearing more about.
Designer: Tanya Ivory Mayes
Instagram: @theivorycollection_
Website: theivorycollectionusa.com
In Photos:
Ivory Mayes @theivorycollection_
Photographer: KJMayes Photography
Model: Cherilee Davis @davischerilee
MUA: @boujebeautyhm
Production: Le Diner en Blanc 2023 All White Fashion Show