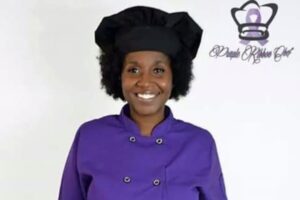 Happy Sunday, Black Fashion Week is shining the spotlight on The Purple Ribbon Chef, who will be the premier caterer during our VIP reception at the upcoming Black Fashion Week runway event, Sunday, February 27th, from 6;30-10 pm. Our Vip guest will nibble on some delicious treats. Don't wait too late to experience our VIP experience, we have a handful of VIP tickets left and want you to experience all the savoring bites for yourself and drinks courtesy fo Barefoot Wine.  Visit www.bfw.2020runway.eventbrite.com .
About The Purple Ribbon Chef
Carlisa N. Thomas owner of the Purple Ribbon Chef is a full-service catering company in Chicago IL. She's maintained her entrepreneurial spirit since a young age when she opened and managed her own candy store. She has always used a portion of her earnings to help people with Lupus, after having been diagnosed at such a young age herself. She followed in her mother's footsteps and fell in love with cooking. Her passion led her to Johnson and Wales University in Miami, FL, and Washburne Culinary Institute in Chicago, IL. After courageously leaving her marriage where she experienced domestic violence she started Purple Ribbon Chef in 2012. 
The Color Purple is significantly symbolic for lupus and domestic violence and for her everything was a full circle when choosing her brand colors. Carlisa's dedication to creating unique and delicious food with a "taste of advocacy" has awarded her amazing opportunities in the culinary industry. The Purple Ribbon Chef has found a unique way to keep the conversation moving forward in a positive light and all through good tasting food. 
Carlisa N. Thomas
Owner/Head Chef
Purple Ribbon Chef
773-910-2296