Minovet is a handmade luxury self-care brand that merges comfort with fashion and care. Maintaining healthy hair, skin, and self is a vital part of self-care. Having quality products that can provide assistance in achieving this is what Minovet provides. Their satin bonnets, nightshades, hair scrunchies, robes, and more not only look and feel great, but they also aid in providing the luxurious care that everyone deserves.
Kristen Childs, Minovet's CEO and lead designer, has been designing and creating custom items for friends and family as a hobby for over ten years. After suffering from multiple medical complications as a type 1 diabetic, and having to retire her salon chair to focus on her health, she decided to work from home as a seamstress and personalized craft shop owner. She officially launched Minovet LLC in May of 2019 in Illinois as a retail brand. Minovet then branched out to serve as a small-batch manufacturer after the interest in their items grew on an international level to create for other businesses. Even with Minovet's rapid growth, Kristen has never sacrificed quality over quantity. Her company has never received a return due to receiving poorly manufactured items. Every item created in her factory is made with love and attention to detail.
Minovet designs all of the items available in their boutique and manufactures most of their items in-house or with the use of a manufacturing partner. With their new manufacturing facility, Minovet Design Studio in Kankakee, IL, they plan to create on a larger scale for themselves as well as for the many brands that contract them for custom designs. Minovet works with other small-owned manufacturers to provide more products for our customers and help other small manufacturers reach more businesses through their network. They even offer a sales broker service where they initiate sales and product placement for their brand partners in their all-new wholesale shop. (MDSWholesale by Minovet). When you support Minovet, you support a network of small, black, and women-owned businesses that bring opportunities and economic value to our communities.
Minovet values all customers' needs and will always provide Mesmerizing Innovations while remaining Naturally Outstanding.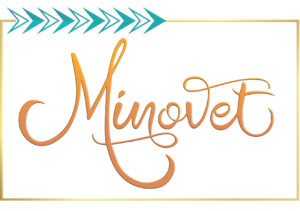 Kristen Childs
FB/IG/Twitter @SimplyMinovet