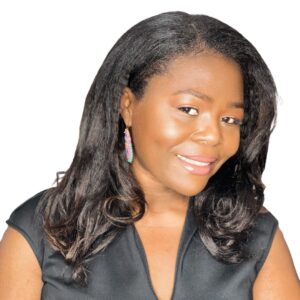 Adodo Délali Robinson is an internationally-certified beauty professional and licensed cosmetologist. With more than 20 years of experience in the beauty industry, she infuses art, style, and education to conceptualize unmatched beauty stories that evoke confidence, radiance, and joy.
Born in Togo (West Africa) and raised in Germany by her Yoruba mother, after moving to the United States opened a full-service salon and day spa, Chéz Délali. Established in 2012, Chéz Délali provides a luxurious, tranquil environment for clients to relax as their beauty stories unfold.
Like many of her clients with darker skin tones, Adodo struggled to find the perfect match for her complexion. In 2016, she expanded her business portfolio by founding the lifestyle and beauty brand Délali Robinson Cosmetics, an inclusive makeup brand that celebrates the beauty of women of color.
With more than 12 foundation shades (in liquid, cream, and powder) and 16 liquid matte lipsticks, Délali Cosmetics compliments every skin tone. Paraben-free, gluten-free, cruelty-free, and vegan-friendly, Délali Cosmetics is not only healthy, but its makeup lines also enable women of color to enhance their natural beauty and showcase their creativity.
Among her many artistic talents, Adodo also provides on-site creative direction for hair and makeup bridal and professional photoshoots. Specializing in textured hair (of all types), Adodo has certifications in hair extensions (Germany) and advanced makeup artistry. She is passionate about educating her clients on ways to maintain healthy skin and hair.
For more details and how to order visit: www.delalicosmetics.com