Black Fashion Week 2019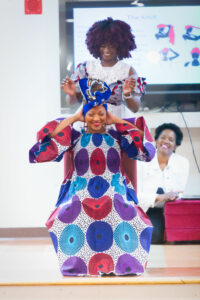 Akese Stylelines splashed on to the Chicago fashion scene in early 2012. Designer Jennifer Akese Burney captures the vibrance and color of the popular Ankara tradition while offering a modern twist to traditionally western silhouettes. "I want my clothes to make every woman and man feel confident, bold and stylish," says Akese-Burney of her latest 2018 collection.
Born and raised in Ghana and currently based in Chicago, Jennifer graduated with a Bachelors in Fashion Design and Technology from Takoradi Polytechnic. She started sewing at an early age and established Akese Stylelines in 2005. She is passionate about designing and producing unique pieces with a focus on fit, color, and print.Her collections blend African prints with western fabrics to create unique pieces that play with traditional silhouettes and whimsical details. Whether it's a sultry look that accentuates a woman's shoulders or a nod to 1950s A-line silhouette, each piece is designed with a specific aesthetic in mind.  Whether your stepping out for a power lunch or clocking in some work hours, Akese Stylelines offers versatile looks that are sure to make a statement.