Happy  July
Our national designer spotlight highlights fashion designer Michelle Collins Windle, born in Georgia, raised in South Carolina, and is a current military resident of North Carolina.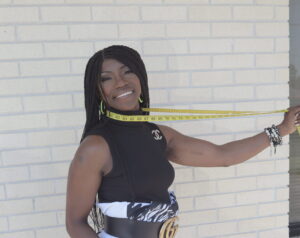 We're thrilled to spotlight Michelle as an on-demand fashion designer, as she recently captured media attention in the south during the pandemic for her face mask and fashion design. With a tagline of "Putting originality back into Fashion". Her designs have captured the attention of several black celebrities including former Supermodel Cynthia Bailey of The Real Housewives of Atlanta, ESPN talk show Host Mike Hill as well as esteemed Jewelry Design Dourien, who designed jewelry for The Black Panther Movie
With a $20 sewing machine purchased from a local thrift shop in her hometown and a vision and 7 years later, Michelle's fashion career is a dream come true. It shows what a little passion and determination can do. After making garments for women in her local church that sparked a demand for her designs, her fashion business MCW original became the place for many to enjoy her designs. Recently during the pandemic, her facemask designs landed her an award as the 2019-2020 designer of the year by FTM Fashion week. She has been featured in a host of media publications such as sheen magazine, Voyage Dallas Magazine, South Adventure and Travel Summer Issue 2020 along with esteemed recognition by Bravo's Project Runway as a Designer. 
Michelle is still shipping her unique one of a kind facemask worldwide with clients as far as South Korea
She is definitely an emerging Black Designer we should all know and continue to follow as she climbs the fashion ladder of Black Fashion Success. 
Follow the designer at 
Where you can check out her work and connect