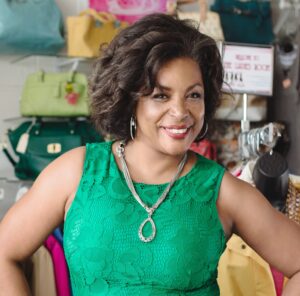 Black Fashion Week 2022 is excited to showcase Thomkat Fashion &  Art Boutique at the upcoming Black Fashion Week events on Sunday, February 27th, 2022 at the Royal Garden Banquet Halls. 
Catrina Kagel was born in Rosedale Mississippi, however grew up in Villa Park, IL since the age of 12. She attended Willowbrook High School and College of DuPage. As a recent graduate of Joseph Business School (JBS) in Forest Park, IL, Catrina is obsessed with leveling the playing field in the fashion industry.  In November 2009, she embarked on an entrepreneurial journey and opened her first store The Ladies Room Resale Consignment Boutique, located at 410 South Main St, Lombard, IL. 
Amidst Catrina's 11-year journey in selling resale clothing, She's since launched two more businesses and a nonprofit organization. She is the owner of ThomKat Fashion and Art Boutique, located in Downtown Lombard, IL and TLR Online, in which, her online product inventory is in Addison, IL. 
ThomKat Fashion and Art Boutique, established in 2021, commemorates the local community by offering princess parties, painting events, and privately themed party events such as Roaring 20s, 80s, etc., and is the expansion of The Ladies Room Resale Boutique that's located in downtown Lombard. " At ThomKat  we provide a unique and fun environment to buy and rent gowns, suits, and tuxedos. ThomKat offers 100's of different unique, eclectic, vintage, and modern gowns for sale or rent. Gown sizes range from 0 – 24. Modestly priced for both rent and sale."
We believe "Your dress should be tight enough to show you are a lady however loose enough to show that you are a woman". by fashion designer Edith Head"
https://thelroom.com/thomkat-fashion-and-art-boutique/
ThomKat
1 N. Main Street
Lombard, IL 60148
P: 630-615-0640
W-Sat: 10am – 5pm
Sun-Tue: 9am-7pm
[by appt. only]