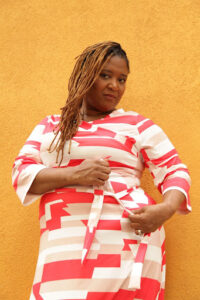 Dr. La'tifah Qawishabazz is the CEO of Be'l Bla'k Couture Ltd. in Chicago IL.
La'Tifah, bears the title of Head Designer. She performs every facet of the launch process of her designs, from concept and construction involvement to merchandise control.
La'Tifah has several degrees such as a Masters in Fashion designs, Fashion Merchandising, along with a Doctorate in Business Management and a PhD. in Business Administration. In 2013, she received the Chicago Urban League Emerging Entrepreneurship award for her participation in their Entrepreneurship program. 
One of her passions is community service. She has participated with the "The Silver Slipper Project", one of  her most cherished service organizations in which she helps to aid young girls who cannot afford the cost of prom. She exemplifies the organization  motto to give back to the neighborhood one stitch at a time. La'Tifah also continues to teach private fashion classes at several local community centers and schools. 
In September 2018,  Dr. La'tifah  showcased her first collection during New York Fashion Week.  Since that time, she has taken part in four seasons of New York Fashion Week along with, Chicago Fashion week, LA Fashion Week and, Miami Fashion Events. Her brand has been published  in ASC Magazine and Vannie Magazine NYC and a host of online magazines. She continues to push her brand forward in 2022 with collections that  highlights and honors her ideal of a mode of distinctive design that is fresh and unexpected.