Hello, good people! BFW is so excited to share with you the profiles of three super talented and gifted Chicago-based jewelry designers. We all know that a chic outfit is topped off by the right piece of jewelry to accentuate the flow of the entire look, or sometimes the outfit is there to accompany the art of the jewelry. Either way, to thine on jewelry be true! Seriously, we've got a hold of three beautiful fashion souls to do a quick interview about their careers in the creative jewelry business, advice to aspiring artists, and for a sneak-peek of some of the jewelry and artwork they have been designing since the government lock down.
Starting off with Marissa Deleay Lashay Kendrick –she's the youngest of the artists we interviewed and has been creating jewelry for 10 years since high school. She started her business Deleay Lashay after receiving a compliment from a stranger who offered to purchase a necklace she designed. This was the moment of destiny for Deleay, as soon after, she was laid off from her job and turned the hobby of making jewelry into a full-time business.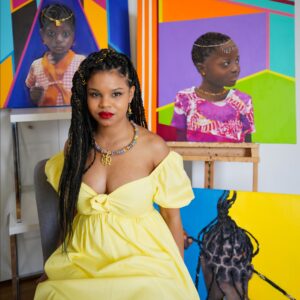 The same is similar for Kelly D. Moseley better known as K-FLEYE (pronounced K-FLY). Kelly's own needs drove her to become a full-time jewelry artist for the last 16 years. Kelly used her creative nail design skills to pay for her books in college which led her to use both art and jewelry designing to earn extra money to pay for a couch she needed. Her natural born talent embedded in her artistic DNA is the fire that keeps her creating and designing unique one of a kind wearable jewelry.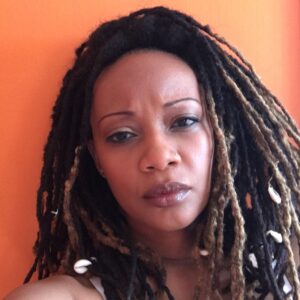 And finally, there's Fantah Celah, whose journey as a professional visual artist started at the age of 16. After moving to Chicago with the help of her jewelry making friends, she pursued the paths of healing purification, meditation and the ancient art form of crystal jewelry design. Since then, she's been sharing her crystal designs as a way of helping to heal the world through fashion.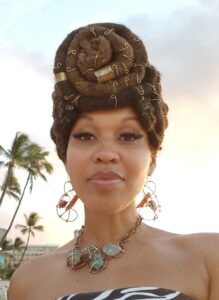 Now that we've introduced you to these jewelry designers, let's dive into what they have been designing during quarantine and their connections behind art and jewelry. We've asked each of them to describe their current projects and here's what they had to say:
BFW:  Since the quarantine have you designed new pieces of jewelry? If so, please describe your inspiration behind the designs.
Deleay Lashay:  Since the quarantine, I have created a jewelry collection inspired by my latest trip to Ghana, Africa. This collection is created from recycled glass and Ghanaian Krobo beads with a little Deleay Lashay twist. I wanted them to be a reminder that every one of us is uniquely made!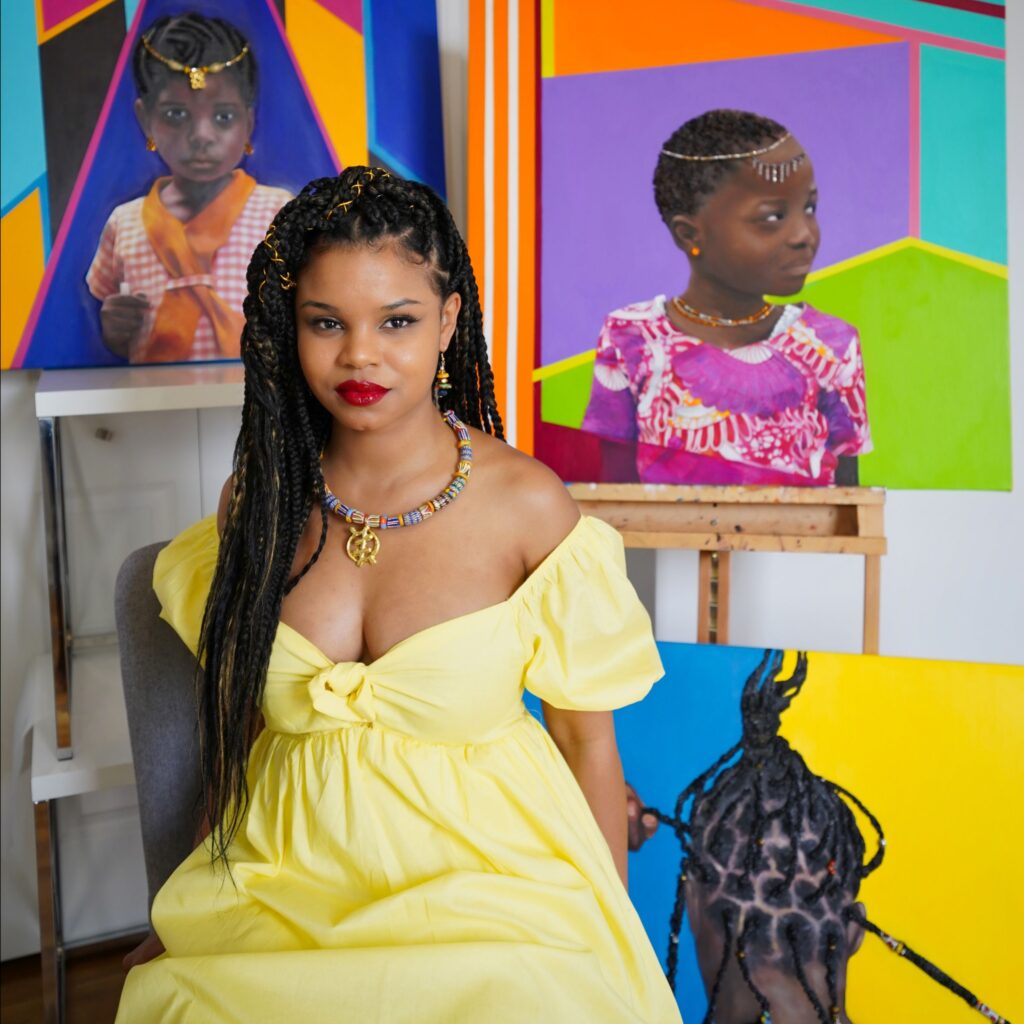 K-FLEYE: Currently, I am in the middle of a city farm. On any given day there is a rabbit, a baby squirrel, a cardinal, cats and an entire family of Robins. I am inspired by nature and the little birds that sit outside my window. (see picture)
A beautiful family of Robins decided to build their bird's nest right outside our bathroom window.  I have a toddler son and it has been nothing short of excitement from watching this intricate nest being built to the vibrate hues of the blues in the eggs, or the golden yellows in their tiny beaks. This week, two of the three eggs hatched. In the words of my three-year-old son "Wow, they so cute!"  Nature has always been a great influence on my approach as a designer and in such a time like now nature reassures me you can find beauty everywhere if you just look out the window.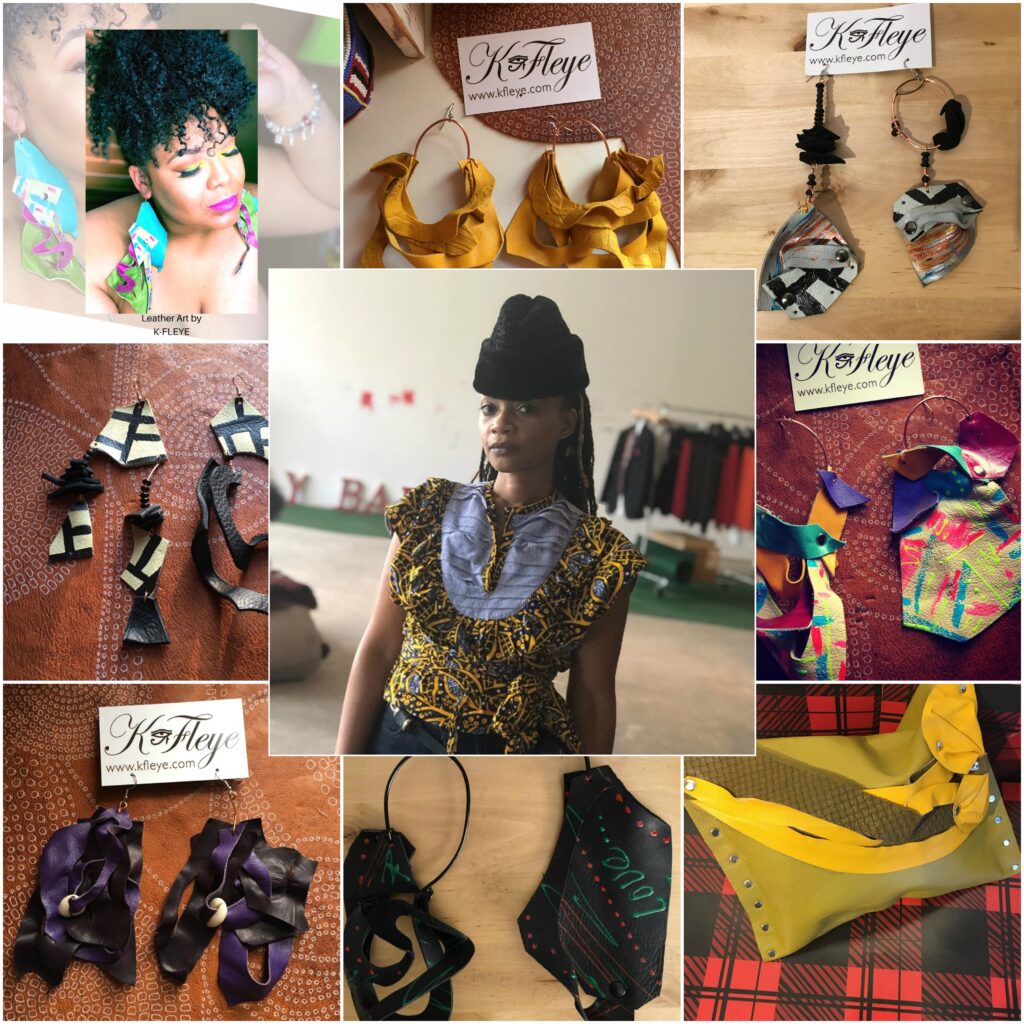 Fantah Celah: Because I am so in love with copper and natural metals, I find myself favoring these color schemes in a lot of my paintings, especially my landscapes and seascapes. Then, I actually have a collection of abstract paintings that are a fusion of the two art forms. In the Roots collection,  I utilize copper patina metal and form it into branches or trees. In other collections, I add chain, crystals, cowrie shells, peacock feathers, and other 3-D elements to breathe life into my work. I even go as far as adding recycled items such as USB cords and found objects with copper wire, in my series called 'Nature vs. Technology' to inspire the world to focus on preserving the environment.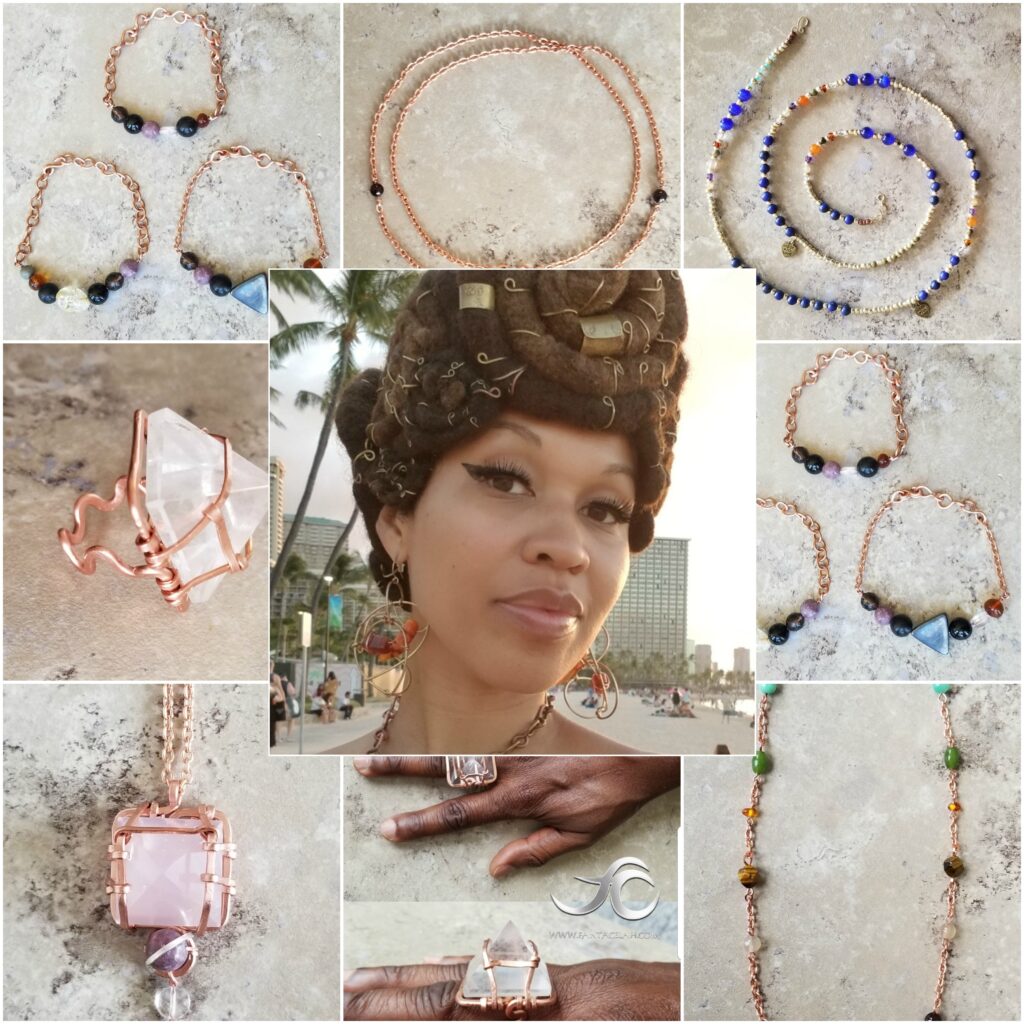 BFW: Are there any connections between your jewelry and artwork?
Deleay Lashay: My current paintings are also Ghana inspired and I am in the process of creating a few jewelry installation pieces as well as garments. The work highlights beautiful moments shared as a first-time visitor on African soil.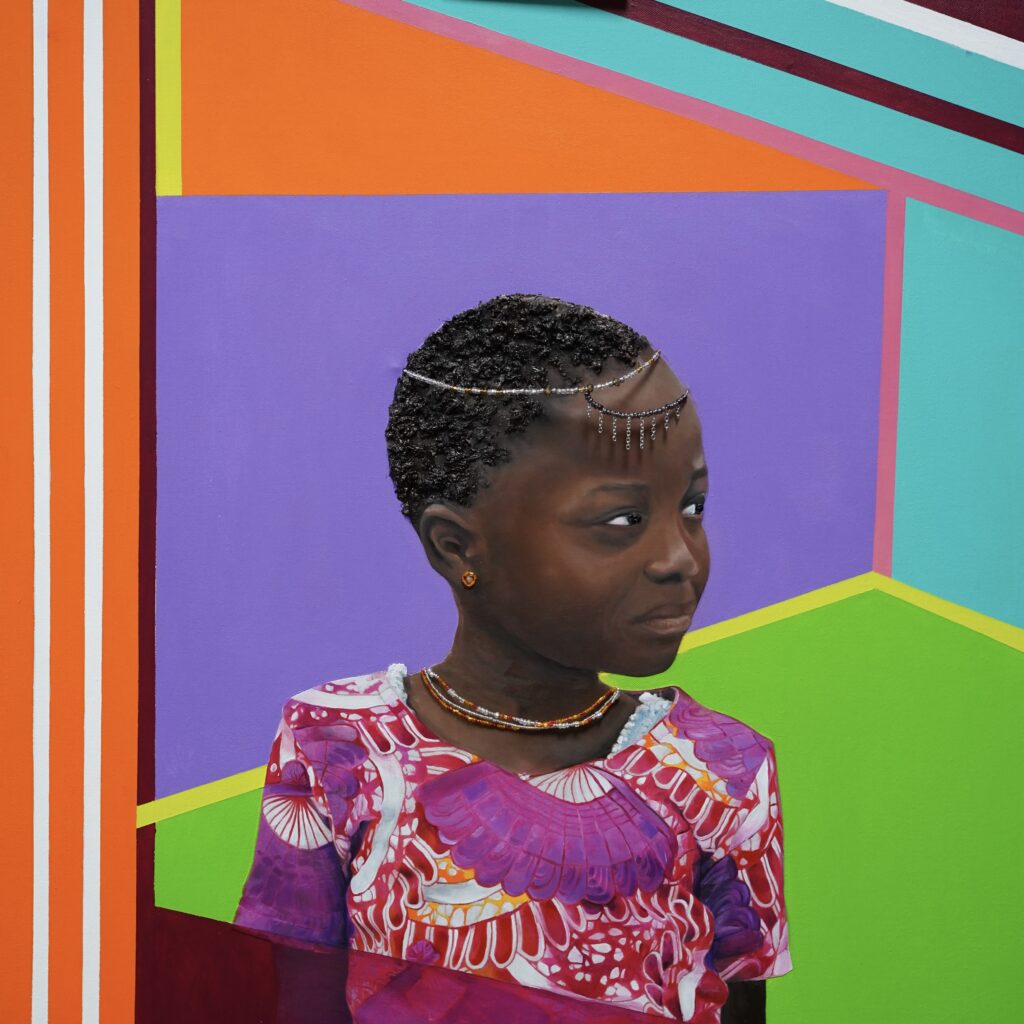 K-FLEYE: My jewelry is artwork. K-FLEYE is wearable art. When creating I take a similar approach as a painter or a sculptor as I take my time to craft each piece.  I am thankful that my ideas and design concepts are fluid and flexible.  My design approach is slow fashion. Social media culture can be trendy, fast, and have multiples of everything; and that is not the way I choose to create. It works for a lot of people and designers, just not me. My purpose when designing is to take my time and focus on the details and those that want it will wait for it.  The concept of one of one resonates well with me. I just don't like to look like everyone and my art reflects that style.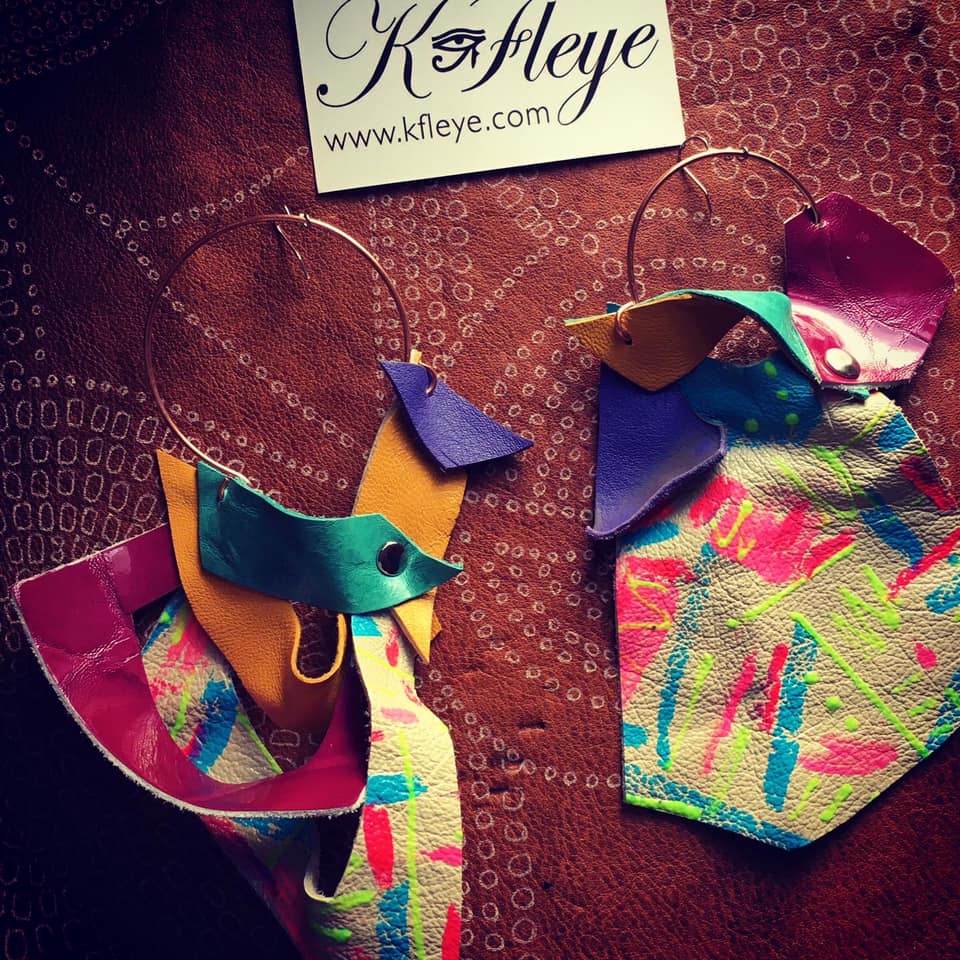 Fantah Celah: My art forms are a part of my being. They are the purest expression of my soul. My fine art reflects the beauty of nature, honors our ancestors, and our own black excellence. Then, the jewelry utilizes nature to adorn us regally, while also honoring our ancestors with the sacred kemetic symbolism and by utilizing the same crystal that were used in ancient times.
Now that you've had a moment to take in all of the beautiful jewelry and art designed by these three amazing women, we'd like to share with you other ways in which they are paying it forward by contributing to their communities and inspiring others along the way.
Deleay Lashay has sponsored proceeds from hosting a clothing drive for the Salvation Army for the benefit of the CAWC (Connections for the Abused Women and their Children). Most recently, she has worked alongside artist Solomon Adufu for the nonprofit organization Kicks 4
the City to distribute new shoes to children in rural communities in Ghana. Deleay Lashay was able to also sponsor a variety of jewelry classes at the LKYVU (Leon Kendrick Youth Voices United) Performing Arts School here in the United States for the sole purpose of creating handmade bracelets for the non-profit organization Homeland Africa in Ghana.
K-FLEYE loves to give back daily practicing the art of reciprocity by mentoring, serving as a volunteer speaker at events, donating products and services to community organizations, where she has received awards for paying it forward. Most recently, she has created unique gifts that she randomly gives to workers on the frontline of Covid-19 as a token of appreciation that they are not forgotten.
Like the others, Fantah has served local organizations as a mentor to young artists on their journey of self discovery and artistic expression. From 2009-2014 she volunteered as a curator at the African Festival of the Arts office/gallery to give new and upcoming artists a platform to exhibit their work and to inspire the next generation.
Finally, we asked the ladies to share some wisdom and encouragement for young artists and here's what they had to say:
BFW: What advice would you give to a young, aspiring artist like yourself?
Deleay: I would tell them to truly embrace what makes them unique. Always look for opportunities to be inspired and invest your time in learning your craft. Most of all, believe in yourself and know your work has a voice.
K-FLEYE: "Don't set sail on someone else's star." ~ African Proverb God gives us all a vision. Take your time to develop it and work on your craft daily. There is beauty in those challenges you may face.
Fantah: Networking is very important, so go to as many art exhibitions and prestigious functions as possible (once the world opens back up) with business cards in hand! Then:
Create a website and social media pages for networking and sales.
Submit your work into competitions, art shows, art festivals,  galleries and apply for grant opportunities.
Print your artwork on product lines, such as t-shirts, to create affordable versions of your work.
Observe what successful artists are doing to get ahead, and follow suit!
OK hopefully you have enjoyed learning about these fabulous Black jewelry artists. To stay connected, see more of their biographies below:
Deleay Lashay:
Marissa Kendrick is an entrepreneur, artist, designer, and humanitarian.  Inspired by art, storytelling and a desire to empower others in their life journey, Marissa Kendrick founded the Deleay Lashay brand in 2010.​
Marissa's story is unique. Originally from Gary, Indiana, she moved to Chicago where she attended Columbia College and the Illinois Institute of Art. In addition to founding the Deleay Lashay brand, she also founded the Deleay Lashay 3 Day summer camp.  She has facilitated a series of fashion productions, pop up shops, showcases and gallery openings.Marissa has travelled with her brand to Milan, Italy, New York, Chicago, Miami, Washington D.C., California, and has also been featured at the Black Women's Expo, Essence Festival, and more. Read more here
www.DeleayLashay.com
Deleaylashay@gmail.com
Social Media: @DeleayLashay
Kelley D. Moseley – K-FLEYE
About K~FLEYE jewelry + accessories collection
(Pronounced K~FLY) is a collection of cutting edge quality jewelry, accessories, handbags and limited edition clothing dedicated to individuals with uncompromising style. K~FLEYE produces limited edition wearable art.
rned with fresh lines and classic twists each item compliments a unique method of wire wrapped jewelry, beading, metal smiting, movement, music & design. Artist & designer Kelley Moseley hand creates & designs one of a kind functional art for individuals that are interested in complimenting a new look, enhancing an existing one while making a statement. Each creation provides an authentic look that speaks individuality.
The collection includes geometric cuffs & bracelets, shoulder-duster & statement earrings, leather, fabric, cutting edge necklaces, delicate charms, multipurpose chains, conversational 'peace', cocktail rings, belts, cuff links, sterling silver, copper, brass, handbags and of course the unexpected.
Kfleye:www.kfleye.bigcartel.com
Stay social at www.instagram.com/kfleye or at  www.facebook.com/kfleye
312-554-KFLY (5359)
Shop the Collections
https://www.etsy.com/shop/kfleye
About Fanta Celah
Fanta Celah is a world-renowned crystal jewelry designer, fine artist, celebrity stylist, jazz vocalist, reiki healer, henna tattoo artist, and natural hair model who is known for her unforgettable coiled hairstyle she calls the "Cosmic Crown."
Over the years, Fanta has been featured in Vogue, Essence, New York Magazine, Rolling Out, and The New York Times. She has also been interviewed on TV shows around the world, such as The Diva Show on TV3 in Accra, Ghana; Voxafrica channel in London, UK; and ABC in Chicago. Read More Here
Fanta@FantaCelah.com
773.270.1295https://www.instagram.com/fantacelah
Https://www.instagram.com/fantacela
Https://www.twitter.com/fantacelah